Welcome To Padma Ladakh Luxury hotel
A New Vision of Luxury
We, 'Padma Guest House & Hotel' family and staffs wholeheartedly thank our honoured Guests for choosing to stay with us. With your unconditional trust in us, we are glad to announce that we are launching our new property Padma Ladakh, an elegant Hotel with a traditional taste which is a sister concern of Padma Guest House & Hotel. Located at a mere 10 minute drive from the Leh Airport, Padma Ladakh is the meeting point of eastern hospitality with western comfort. From pleasant Premium rooms to luxurious Delux rooms, we have designed everything to suit your needs. Most of our rooms provide you with a panoramic view of the snow covered mountains to brighten your stay. The humble Leh Palace standing tall with all its glory, the Shanti Stupa overlooking the main Leh Town is a view to cherish from our roof top.
Are you planning a trip to Ladakh? Come and stay with us to witness the charm of this magical moonland. Here in Padma Ladakh we offer you the care and comfort of a second home away from your home. Our staff are trained in hospitality and are always ready to serve you with a warm smile. So come and experience our Ladakhi hospitality while staying with us.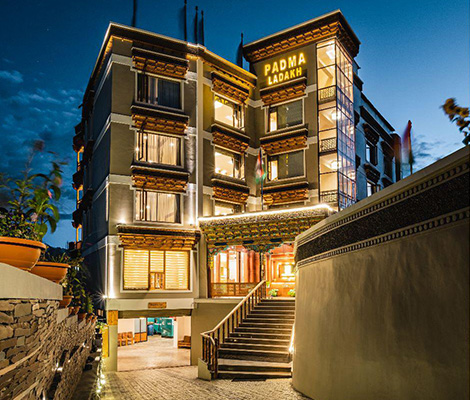 Why choose Padma Ladakh hotel
Amenities and Facilities
Review
What our client says

Hotel Padma Ladakh was our base to explore Ladakh from and we had a truly wonderful time staying here. Breakfast and Dinner were amazing and the chefs introduce new dishes every day to make our meals really enjoyable. The rooms were super clean and warm! The staff was really friendly and helpful. They went out of their way to help us with our itineraries and offered really good advice to what we liked to do. The owner was super friendly and very much involved in the running of the hotel. We found ourselves talking to him so often to have a deeper understanding of Ladakh. A source of insight and wisdom to the region.

A truly five star experience. The Check-in was prompt and smooth. Food we ordered was delectable. The most beautiful mountain view I have ever seen from the room. Premier room with all the comforts. Staff was super accommodating and did some beautiful last minute updates and decoration to the room knowing that we were celebrating our daughter's birthday , Also owner of the Hotel is very kind and helpful . We would definitely visit again soon

The staffs are very attentive and caring. Great breakfast and dinner. It's very delicious, but I would prefer it if they put less salt. They have wonderful organic vegetable garden in the middle. It's the best. And the flowers there are beautiful. This place feels like home.

The rooms were great. The bed was comfortable and there was a TV. They also turned the heater on but it was too hot. The bathrooms were also really nice though the geyser was not working properly. The service was also really nice and the people were also nice. The food was also great. I highly recommend this place to anyone visiting Ladakh.

I booked for 3 nights at the Padma Ladakh but ended up extending my stay by 1 more night. I stayed in their Deluxe rooms. The hotel is very well constructed with rich interiors. The best part was that each floor has a common lobby area with balcony to enjoy amazing views. They also have a very well maintained garden full of vegetables and fruits. We had all 3 meals at the hotel and they were good. The hotel staff is also very kind and helpful. The only thing which could have been better is the Wifi. Even though they have fiber connections, the signal was very weak and fluctuating in the rooms where we stayed (3 floor). So we ended up using our own 4G data most of the time.

The rooms are well maintained. Clean and nice. Very hospitable staff and food was also good during our 2 days of stays. They have nice small outdoor seating as well which would be better used in summers. Overall great experience
Medical Tips
Medical Tips for the Travelers
We firmly suggest you undergo a medical health check-up for issues related to hypertension, migraine, blood pressure, and any other chronic sickness before your visit.
To quickly adapt to new climate conditions and altitudes, carry a dosage of Diamox, Aspirin, or Dispirin.
Safety & Hygiene
Covid -19 Cleanliness and Hygiene Tip
At Padma Ladakh, we are taking the spread of COVID-19 virus very seriously. As you are an integral part of our Padma Ladakh family, we wanted to reach out to you.
Our thoughts are with everyone who has been affected by the COVID-19 Pandemic. It goes without saying that the impact is huge around the world. During such exceptional times, Padma Ladakh is adapting to the New Normal with great diligence. We want to assure all our guests that we are doing everything we can to ensure a safe environment and a pleasant holiday experience following the guidance issued by the Department of Health to prevent the virus spread.
At Padma Ladakh, we have placed extreme emphasis on the safety and wellbeing of our guests and hotel staff. To ensure that our commitment to our guests is not disrupted, we have taken specific measures like thoroughly sanitising the rooms prior to each guest transfer, temperature check of our guests and staff before entering the hotel, and making face masks mandatory and available to everyone. Any visitor with a temperature over 99°F will not be allowed to enter the hotel premises. Face masks are mandatory and available for anyone who does not have it.
In case of any questions or queries, please call us on +919622999695 , +919906982171 or mail us at padmaladakh@gmail.com , reservation@padmaladakh.com.
Thank you for continuously supporting us during this challenging period.
Team Padma Ladakh